Vision
The Würth Group is one of the worldwide biggest suppliers of assembly and connecting technology to craft and industry. What spurs us on? We love selling. Satisfying our customers is not enough. We want to inspire them - by offering ideas that make their business progress. We consistently pursue everything that has proven to be successful, and we try out new things - optimistically, dynamically and with strong powers of self-assertion. Our vision: Becoming the number 1 in the eyes of our customers as the best sales team.
As a family business with a strong corporate culture, the Würth Group is very well-positioned to achieve this goal. Managing with a vision, linked to a strict orientation towards excellent performance and great respect for the employees' achievements, has been a characteristic feature of the company since its inception and is in no small part thanks to Reinhold Würth's leadership. Already in the early years, the company aimed to approach customers actively instead of waiting for them to come.
"Seeing behind the mountains and around the bend", leaving the beaten track behind to find potential for optimization is one of the basic rules of the company that was formulated by Reinhold Würth. Bettina Würth, the daughter of Reinhold Würth, is keeping up this tradition as the Chairwoman of the Advisory Board of the Würth Group.
Exemplary for the visionary and strategic thinking in the Würth Group is the "Vision 2000", which Reinhold Würth had developed in 1987: The sales volume of the Würth Group amounted to EUR 700 million in that year. The aim was to attain a sales volume of EUR five billion by the turn of the millennium. Indeed did the company succeed in reaching exactly this target in the business year 2000.
Our Strategies
Quality
True to its motto "Quality beats price," Würth is positioned at the very top of the quality spectrum: We do not only offer top-notch quality when it comes to our products, but also for our services.
Würth - a strong brand
We want to inspire our customers – all over the world, with identical quality and the same brand promise. This means that we support our customers actively and in a solution-oriented manner. This way, they can focus on their business. We are working passionately to optimize our products and services constantly.
The sales force is the company's heart and soul
One of our particular strengths and a key to the Würth Group's success story is the system of direct selling through our sales force organization.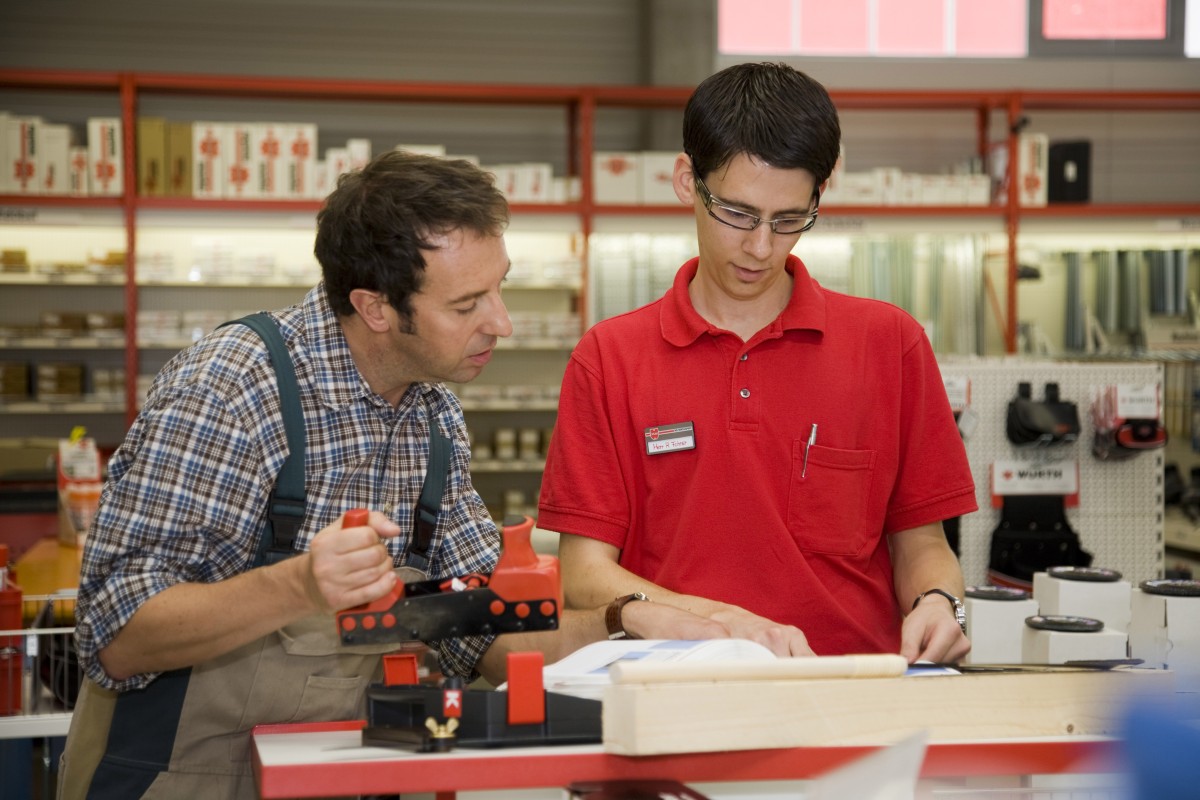 Almost 34,000 permanently employed sales representatives all over world advise our customers and see to it that craft and industry businesses are offered product solutions tailored to their needs as well as optimal services. Thanks to our specialization through the divisions Automotive, Metal, Wood, Construction and Industry, every sales representative is a competent contact in his/her line of business, ensuring individual advice. This approach makes Würth a reliable partner for its 3.6 million customers worldwide.
Active in the market of over 80 countries
We are a global player and currently active on all five continents with more than 400 Würth companies. Thanks to this strong presence, our customers, be they a small craft enterprise or an international industry business, can reach us easily. They are certain to receive Würth's top-rate product and service quality wherever they may be.
At the same time, the Würth Group's decentralized structure provides the possibility to react flexibly to the requirements of local markets and answer to individual needs.